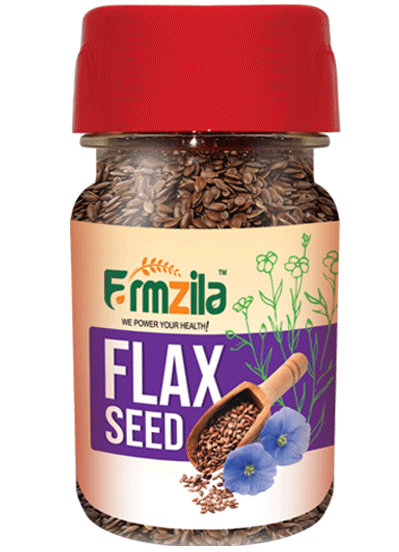 Flaxseeds have been
consumed for at least 6,000 years.
Flax seeds have been consumed for at least 6,000 years, making them one of the world's first cultivated super foods. What does flax seed do for you that makes it one of the most popular "super foods"? Flax seeds contain anti-inflammatory omega-3 fatty acids (although not the same type that fish, such as salmon, do) along with antioxidant substances called lignans that help promote hormonal balance in addition to several other benefits of flax seed. Benefits of flax seed include helping improve digestion, skin, cardiovascular health, cholesterol and hormone balance while fighting cancer and even sugar cravings — and that's just the beginning!
Golden Flax seeds, also commonly known as Linseeds, have been used as a staple food for thousands of years. They are a source of Calcium and Iron, a high source of Fiber and provide 3 grams of Omega-3 per 1 heaping tablespoon 15 gram serving. Flax seeds are also known for their unique beneficial compounds known as lignans, which have been shown to positively impact health in numerous ways. Much like Slippery Elm, Flax seeds are highly mucilaginous in nature and as such provide a soothing film for irritated mucous membranes. The delicate, nutty flavor of flax seeds nutritionally enhances all recipes without altering the taste.
Flaxseed Benefits
High in FiberBut Low in Carbs
High in Omega-3 Fatty Acids
Helps Make Skin and Hair Healthy
Helps Lower Cholesterol and Treat Hyperlipidemia
Gluten-Free
May Help Manage Diabetes
High in Antioxidants (Lignans)
May Help Regulate Blood Pressure
Supports Digestive Health
May Help Lower Cancer Risk
May Help with Weight Loss
Helps Decrease Menopausal and Hormonal Imbalance Symptoms
Nutritional Information
110 calories
6 grams carbohydrates
4 grams protein
8.5 grams fat
6 grams fiber
0.6 milligram manganese (26 percent DV)
0.4 milligram thiamine/vitamin B1 (22 percent)
80 milligrams magnesium (20 percent DV)
132 milligrams phosphorus (14 percent DV)
0.2 milligram copper (12 percent DV)
5 milligrams selenium (8 percent DV)
Flax seeds also contain a good amount of vitamin B6, folate (or vitamin B9), iron, potassium and zinc. As you can see, it's no secret as to where the benefits of flax seed come from with this nutrition profile.